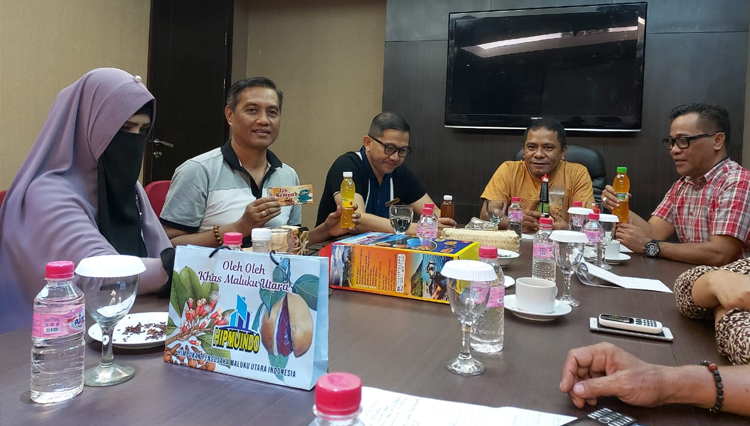 TIMESJEMBER, MALUKU UTARA – Grand Dafam Bela Ternate Hotel is now serving the welcome drinks and breakfast made by the owners of SMEs in Ternate and Tidore.
The welcome drink that will pamper the hotel guests are ancestral drinks, Sarabati, made by Endang, and Sari Buah Pala made by Nadra.
According to Dr. Muktar Adam, Kampoeng Melanesia facilitated the meeting of SMEs owners and the managers of Hotel Dafam as the first step to expand the potential market for the products manufactured by the SMEs.
The meeting held in Grand Dafam Hotel on Sunday (12/1/2020), has resulted an agreement. Both parties agreed that Sari Buah Pala will be served as the breakfast menu, and the ancestral drink, Sarabati, will be served as the welcome drink in Grand Dafam Hotel. "This will be a good encouragement for Sail Tidore 2021," he said.
The supply scheme to the hotel will be started on Tuesday, 14 January 2020, with the average supply around 100 liters of Sari Buah Pala for five-day consumption, and 75 liters of Sarabati for one week supply.
The business owner, Endang, said that she was happy that her product could be served as the welcome drink in one of the most reputable hotels in North Maluku. "Alhamdulillah, I am very happy. I hope this can be a good start for my business in the future. Thanks to Grand Dafam Bela Ternate Hotel," said Endang to TIMES Indonesia on the telephone. (*)
Baca Berita Peristiwa dan Politik terbaru di Indonesia dan luar negeri lainnya hanya di TIMES Indonesia.